Husband and Wife, Ryan Agoncillo and Judy Ann Santos are back on the big screen in their upcoming family comedy "My Househusband, Ikaw Na!". The real life couple which previous movies were the box office front runners on their respective MMFF years "Kasal, Kasali, Kasalo (2007)" and "Sakal, Sakali, Saklolo (2008)" is coming back with their worlds turned upside down.
This time around it isn't the housewife that gets to lead the story (like in Kasal, Kasali, Kasalo), not the two of them(like in Sakal, Sakali, Saklolo), but the 'Husband' himself (played by Ryan Agoncillo) will get the chance to storytell the indoor misadventures of a "Househusband".
MY HOUSEHUSBAND: Ikaw Na! is a light comedy about Rod (Ryan Agoncillo), a stay-at-home husband that does all the things that are supposed to be done by his wife. Mia (Judy Ann Santos), on the other hand is the wife who earns a living for their family. But as Rod tries to adapt the "wifey" role, he encounters situations that almost got him snapped and events that will make him realize that being the housewife is the greatest job in the world.
My House Husband movie is starring Judy Ann Santos, Ryan Agoncillo, Eugene Domingo, Miriam Quiambao and Agot Isidro. Directed by Jose Javier Reyes and is set to be released on Christmas Day, as part of the 2011 Metro Manila Film Festival!
Proudly produced by OctoArts Films, "My Househusband" is a light comedy about husband and wife who have exchanged roles, at least in the traditional sense; that is, Rod stays at and tends to home while Mia earns a living. They deal with various situations in such a set-up. Ryan points out that the film is no "andres de saya" tweak. "It's not as if Rod is a 'yes' man. He still gets to wear the pants in the family except that he also dons the apron come meal times," he said.
The cameras have started grinding for "My Househusband." It is being helmed by the award-winning Jose Javier Reyes with whom Ryan and Juday worked in 2007′s "Kasal, Kasali, Kasalo" and 2008's "Sakal, Sakali, Saklolo." Both movies were topgrossers in their respective filmfest seasons creating a lot of excitement for this next franchise from the loveable husband and wife tandem and their favorite director. It wouldn't be a surprise at all if "My Househusband" will emerge as a great contender once again in the 2011 film festival box-office race.
Ryan is especially excited to do this movie because it is a homecoming of sorts for him who actually began his acting career within the OctoArts camp via his role in the 2005 movie "Kutob." He said, "Masayang masaya ako because Boss Orly Ilacad was the very first producer who trusted me enough to give me a role in a movie. It's nice to go back to where you started basically. I know we are in good hands here," he said.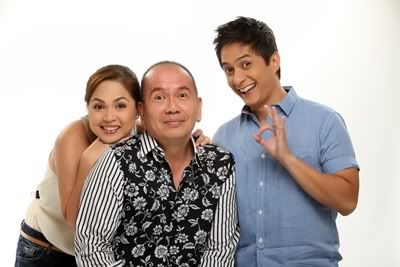 "Direk Joey is a cool guy. It's very easy to work with him provided that you come to work prepared—which should be the case anyway," Judy Ann said. "He knows how to strike the balance between maintaining a happy set and keeping everything running with clockwork precision." In reading the script of "My Househusband," Ryan and Judy Ann found themselves empathizing with the lead characters though not necessarily according to gender. "Some of the things that happen to Mia, I myself have gone through in life," said Ryan.
"And there were instances when I can relate to how Rod reacts to a situation because I feel I would do the same if it were me," said Judy Ann. The actress notes that Mia is the supportive and patient kind of wife versus the loudmouthed, obnoxious and strong-willed ones she has played before. Ryan, on the other hand, says Rod is a very principled guy and one with a lot of heart. The pair is confident that more than entertaining the audience, "My Househusband" gives a realistic idea of what a marriage is like. "You realize that the vow about staying together 'for better or for worse' is no lip service," he said.
Judy Ann rejoined: "If anything, we hope the people would leave the audience enlightened that conflicts actually spice up a marriage if handled correctly. These problems can actually make the husband and wife stronger for their family."
"My Househusband" under OctoArts Films is an entry to this year's Metro Manila Film Festiva
Read More: Judy Ann Santos & Ryan Agoncillo Returns in 'My Househusband'!
Under Creative Commons License: Attribution Share Alike